Accessible Microsoft Excel Workbooks and Charts
With accessibility in mind it is easy to create, store, and analyze data sets that are both functional and visually appealing. Creating accessible workbooks in Microsoft Excel will provide access to content for students who are blind or have low vision and use assistive technology. Screen readers can interpret the data and navigate the content of your workbook when they are formatted correctly. It is strongly recommended that you follow accessibility guidelines below to ensure compliance for your online content.
Give all sheet tabs unique names, and remove blank sheets.

Always start your workbook with the first cell (A1).

Use a simple table structure, and specify column header information

Do not leave empty rows and columns in your data sets.
Use Accessible MS Excel Templates
Pre-built Excel templates can help save time and ensure that the content you create is accessible.
Select File > New.
Select a Template, all pre-formatted templates have built-in instructions explaining how the Templates work.
Create and use Formatted Tables
The main goal of creating an accessible workbook is to provide sighted and blind or low-vision users with the same kind of robust user experience in navigating and understanding the content. Formatting your Tables for accessibility starts with the following steps.
Highlight the cells you want to convert to a Table
Select Insert > Table.
Make sure to select the My table has headers option.
Additional Table Information:
Use one table per sheet.
Merged cells should not be used in tables.
Create and use formatted Charts
A highly effective way to present data is through the use of Charts. When utilizing Charts, it is imperative to develop the chart with accessibility in mind.
Select the data you would like to convert to a Chart.
Select Insert > Recommended Charts
Selecting Recommended Charts will provide options and recommend the best type chart to display your data. You do not need to use the recommended chart, as all options are also available in the Insert Chart menu.
Add Alt Text
Screen readers can read the Alt Text and describe images, shapes, graphics, charts, and tables to students who are blind or have low vision and use assistive technology. Please refer to the information below before adding your Alt text.
Select the picture or object.
Option to right click to Edit Alt Text or select Alt Text from the Format section.
Select Alt Text.
Write a short description of the image or mark as a decorative item if the image is used for decorative value only.
Add a concise description:
A few words is all you need, though sometimes a short sentence or two might be appropriate. Screen readers generally say what type of content the object is, you do not need phrases like "image of", "table of", or "link to."
Additional Guidelines:
Graphs and charts MUST be fully labeled and include all of the following, as applicable: title, legend, axis labels, and data labels.
Graphs and charts MUST be accompanied by a complete description in plain text form, placed directly in a cell rather than in the Alt Text section.
Meaningful images MUST be accompanied by a text alternative placed directly in a cell, as opposed to in the customary Alt Text section.
If WordArt, SmartArt, Shapes, Text Boxes, or other Floating Objects contain vital information, it MUST also be available in a text alternative placed in the cell layer.
Avoid using watermarks and background images.
Checking for Accessibility
MS Excel contains a feature to check accessibility. After developing or reformatting your workbook in an accessible format, it is recommended to run an accessibility check. Errors in the workbook content will be noted in the Inspection Results and Additional Information menu presented to you on the screen. The inspection results also include additional information about accessibility issues on the right side of the screen. Here, you will find additional resources and links to information about making documents accessible.
Select File > Info > Check for Issues > Check Accessibility.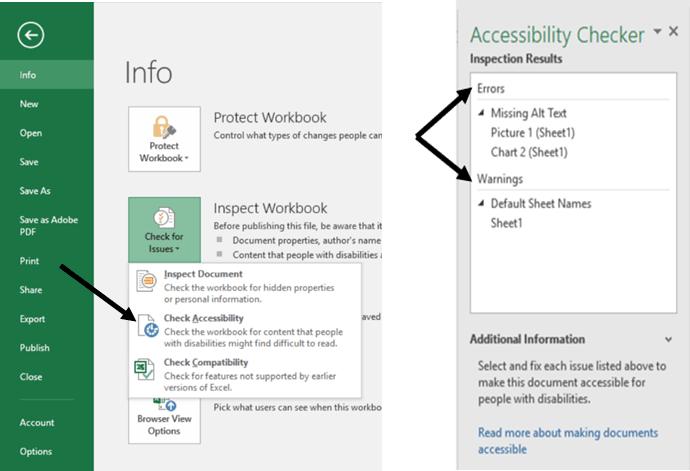 Each issue is classified as an Error, Warning, or Tip.
Error: An error is for content that makes a file very difficult or impossible for people with disabilities to understand.
Warning: A warning is for content that in most, but not all, cases makes a file difficult for people with disabilities to understand.
Tip: A tip is for content that people with disabilities can understand, but that might be better organized or presented in a way that would improve their experience.
Additional Resources
Best practices to make your Excel workbooks accessible for Windows
Best practices to make your Excel workbooks accessible for Mac